Entry Date: 05.09.2021, at 14:30:00 hrs (local)
Whangarei - Whangarei
Hatea River Bridge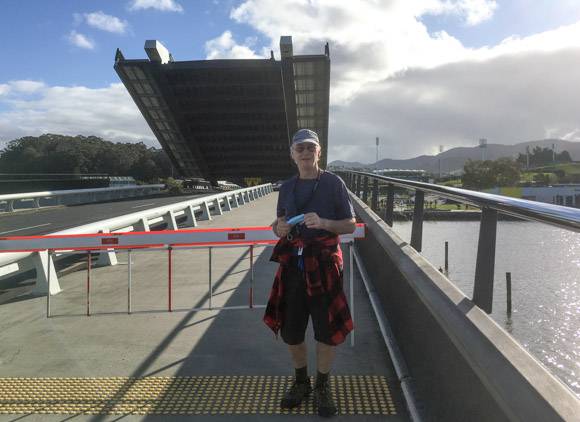 | | |
| --- | --- |
| PRID: | 12270 |
| LegID: | 331 |
| LegNo: | 79 |
| Latitude: | S035°43.47' |
| Longitude: | E174°19.59' |
| Day#: | 1106 |
| Log (Leg): | 412 nm |
| Log (Total): | 55522 nm |
Since a few days the alert level because Covid in NZ is decreased to level 3, meaning people are allowed to go to work but, but social live is still very much restricted. Restaurants, cultural centers, sport studios and schools are still closed.
We alter our route and walk along the shores of Hatea river to the Hatea River Bridge, which we often have passed with SuAn to sail to Town Basin Marina in Whangarei. Today the bridge opens just in front of us and the cars and passengers have to wait to let a patrol boat pass.
A 25m long and 17.7m wide part of the bascule bridge, with a weight of 390 tonnes opens on demand for passing vessels, which are taller than 7.7m.