Entry Date: 08.04.2021, at 17:00:00 hrs (local)
Nelson - Cook Strait - Mana
Arrival in Mana Marina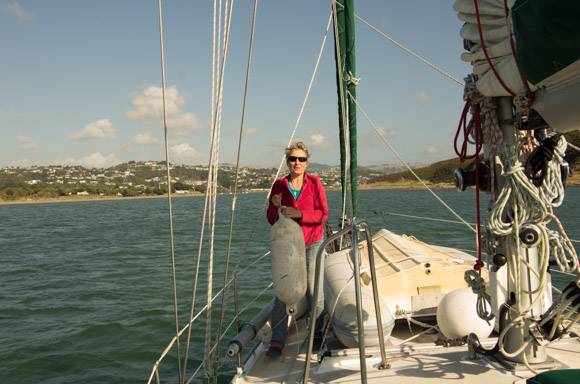 | | |
| --- | --- |
| PRID: | 12188 |
| LegID: | 329 |
| LegNo: | 77 |
| Latitude: | S041°06.07' |
| Longitude: | E174°52.07' |
| Day#: | 1055 |
| Log (Day): | 35 nm |
| Log (Leg): | 349 nm |
| Log (Total): | 54417 nm |
Our crossing of the infamous Cook Strait today was a piece of cake in light wind conditions and sunshine pur. Those conditions are rather rare and we are lucky to have such a great sailing day including our fish.
After nine hours we reach Mana on the North Island in the suburbs of Wellington. Gabi prepares the fenders and mooring lines. But when we want to pass the entrance into the marina SuAn stucks in the soft mud. Immediately strong back gear and SuAn swims again. Uups, this was unexpected! Even we have been warned about a bar at low tide, but we found one further out. Having the entrance of a marina blocked by a sand bar, did not come into our mind. Anyway, in those light wind conditions with little current at that time we have been lucky and tie SuAn for two hours to a mooring close by.
Two hours later the tide has risen and we finally get into the marina without hitting the bottom and are safely tied to the dock.