Entry Date: 13.04.2021, at 14:00:00 hrs (local)
Cook Strait - Mana - Whangarei
Porirua Lagoon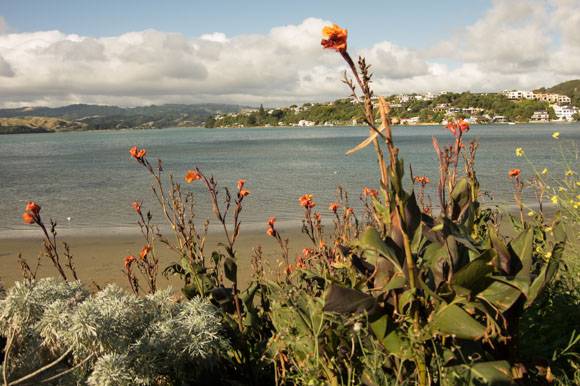 | | |
| --- | --- |
| PRID: | 12190 |
| LegID: | 330 |
| LegNo: | 78 |
| Latitude: | S041°06.08' |
| Longitude: | E174°52.08' |
| Day#: | 1055 |
| Log (Total): | 54417 nm |
Just behind the Mana Marina is Porirua Harbour, a big lagoon surrounded by hilly farmland and the houses of Paremata along the southern hills.
It is sunshine pure, but a cool and windy day, perfect for a walk around that piece of water. The lagoon is barely used for boating because of its restricted entrance under two bridges and the shallow water.
A very nice walkway along the northern shore and a boardwalk through the marshland at the far eastern shore with lots of bird life invite families for a stroll. Only the southern shore is not suitable for people on foot: a well used road with no shoulders and steep embankments down to the water or up the hills on the other side make it dangerous for walkers. About 20 km later we are back in the Marina and have a drink in Mana Cruising Club.