Entry Date: 07.12.2018, at 16:00:00 hrs (local)
Whangarei - Whangarei
Tongariro National Park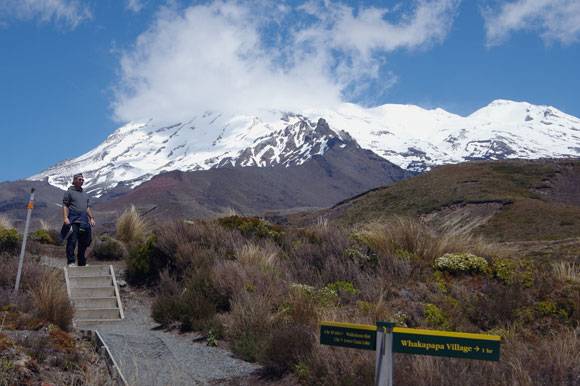 | | |
| --- | --- |
| PRID: | 11684 |
| LegID: | 315 |
| LegNo: | 64 |
| Latitude: | S035°43.41' |
| Longitude: | E174°19.57' |
| Day#: | 821 |
| Log (Leg): | 15 nm |
| Log (Total): | 47138 nm |
When Lutz wakes up this morning he does not hear the noise of the rain hitting the roof of the Nissan. Instead he is blinded by something. He opens the eyes and hardly can believe it. The sun is shining from a cloudless sky. It seems there has never been a low pressure system wrecking havoc. Wao! Gabi look at this …
Just a little time later we are on our way. Our destination is the Tongariro National Park which is located not so far away. The Tongariro National Park is the oldest national park in New Zealand, located in the central North Island. It has been acknowledged by UNESCO as a World Heritage Site of mixed cultural and natural values. In the center of the park are three active volcanic mountains: Ruapehu (2797 m), Ngauruhoe (2291 m), and Tongariro (1968 m).
The mountain summits are of great significance to the local Māori. In order to prevent the selling of the mountains to European settlers, the most significant chief Te Heuheu Tukino IV (Horonuku) conveyed the core of today's nation park, consisting from the peaks of Mount Tongariro, Mount Ngauruhoe and Mount Ruapehu on 23 September 1887 to The British Crown on condition that a protected area was established there.
You can say about depressions what you want, but sometimes they are also good for something. The very same Low which bothered us with rain, wind and coldness is responsible for the beautiful snowy peaks of the volcanoes.
We park our camper in a very convenient located campground and just a little later we are on our way hiking on fantastic trails below Mount Ruapehu – and the sun is shining.