Entry Date: 13.11.2019, at 13:00:00 hrs (local)
Denerau - Lautoga
Getting ready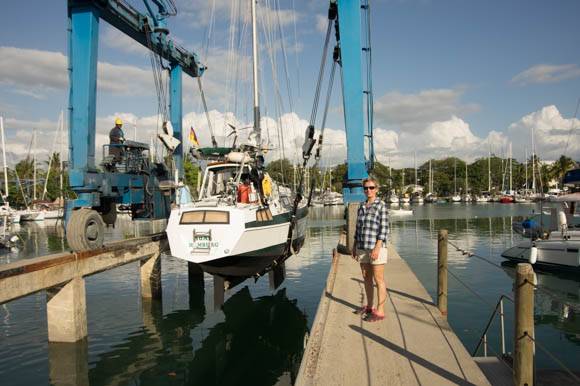 | | |
| --- | --- |
| PRID: | 11816 |
| LegID: | 320 |
| LegNo: | 68 |
| Latitude: | S017°48.00' |
| Longitude: | E177°19.27' |
| Day#: | 922 |
| Log (Leg): | 606 nm |
| Log (Total): | 50000 nm |
It is beautiful tropical weather with blue skys, windy and the sea just a stone jump away from us. But we have work to do. SuAn needs to get ready for one of the difficult ocean passages to New Zealand.
All the stored sails, safety equipment, outboard engine and ropes have to be re-mounted on deck. Under deck everything needs to be cleaned up and stored away. We are progressing well and in the late afternoon SuAn is lifted back in the water again.
A big high pressure system is sitting between Fiji and New Zealand which is followed by more highs over the next days. This looks good for a safe passage down to Kiwi country. So we order the officials for checking out of the country for tomorrow afternoon. Hopefully our plan will succeed.