Entry Date: 05.10.2021, at 10:56:08 hrs (local)
Whangarei - Whangarei
Repair work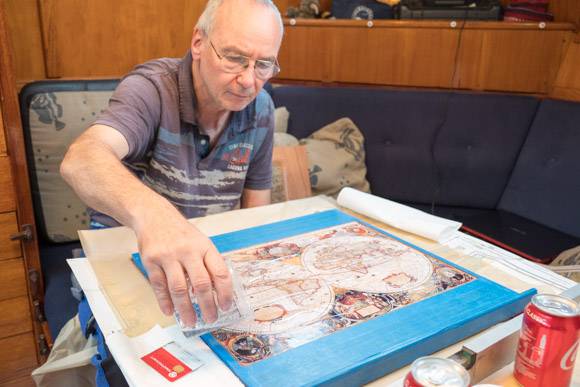 | | |
| --- | --- |
| PRID: | 12277 |
| LegID: | 331 |
| LegNo: | 79 |
| Latitude: | S035°46.47' |
| Longitude: | E174°19.59' |
| Day#: | 1106 |
| Log (Leg): | 412 nm |
| Log (Total): | 55522 nm |
Our chart table needs to be repaired. The veneer is damaged and just sanding and adding one new varnish did not provide a satisfactory result.
We are looking for alternatives: Shall we apply new veneer to the damaged area or to the whole chart table? We find a different solution. An old sea chart permanently on the chart table. That chart we find in the internet and after a few adjustments the size of that chart fits to our purpose. Now we need to find a print shop.
We want to have a permanent solution and watch YouTube videos, how to apply epoxy glass over decorated areas. A carpenter cuts off the damaged veneer the size of our chart and provides us with some sample wood plates for practice. We test the consistency of the adhesive, we try different ways to seal the paper chart and we experiment with two different kinds of epoxy before we work with the real chart. The place must be absolutely horizontal to avoid the epoxy running off and the area must be dust free and warm.
Today, is the day: Lutz is very excited that nothing goes wrong, like with our first real try. But it looks good. Two layers of epoxy, always some adjustments in leveling, because the wind causes SuAn to tilt slightly and than wait and apply heat.
Let´s see, how it finally comes out.