Entry Date: 12.01.2022, at 12:00:00 hrs (local)
Paterson Inlet - Stewart Island - Stewart Island
Aviation Disaster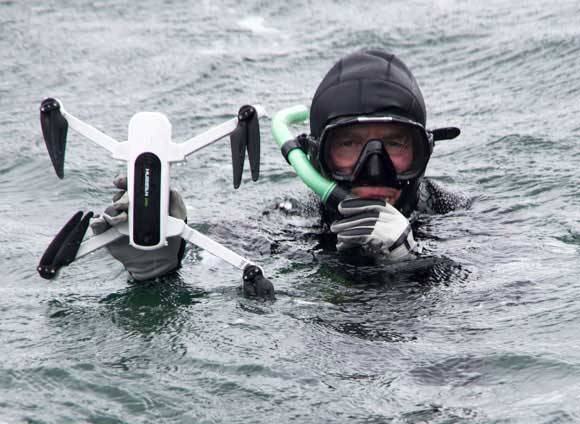 | | |
| --- | --- |
| PRID: | 12358 |
| LegID: | 334 |
| LegNo: | 81 |
| Latitude: | S047°12.30' |
| Longitude: | E167°37.46' |
| Day#: | 1146 |
| Log (Leg): | 135 nm |
| Log (Total): | 56976 nm |
The image gives an impression about the Search and Rescue Mission after the most devastating aviation disaster in SuAn´s history.
SuAn´s drone took-off in the early afternoon from the flight deck. The assigned mission was to obtain aerial photographs. In preparation to this mission all batteries were fully charged. During and shortly after take-off the telemetry data confirmed 100% battery power and all systems were working correctly. A short time later, about 60 seconds in the mission, the pilot recieves a critical warning: "critical power loss". The available capacity of the flight battery was suddenly dropped from 100% down to just 2%. There was not enough time for the immediate attempt to carry out an emergence landing. Only 5 seconds later the aircraft lost all power and crashed into the cold water.
Just a little later a Search and Rescue Mission was on its way. A rescue diver located the aircraft in about 7m depth. After several attempts the diver successfully brings the wreck up to the surface. Back on board of SuAn the mission data could successfully extracted from the crashed aircraft: Just one singe photography. Unfortunately all the fears came true, that the sea water has damaged the aircraft´s board electronic irreversible. This means that SuAn´s drone will never fly again.
In there report the Crash Investigators ruled out the assumption, circulating in the Social Media, that the Corona Virus caused the tragic crash. They came unanimously tho the conclusion that a sudden total failure of the Lithium-Battery caused this disaster.
In deep grief SuAn´s crew announces the painful loss of there beloved drone.