Entry Date: 10.07.2018, at 20:00:00 hrs (local)
Tahanea - Tahiti
Opunohu Bay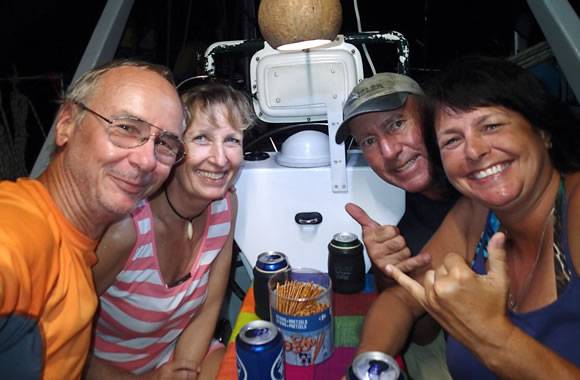 | | |
| --- | --- |
| PRID: | 11551 |
| LegID: | 311 |
| LegNo: | 60 |
| Latitude: | S017°30.83' |
| Longitude: | W149°51.08' |
| Day#: | 764 |
| Log (Day): | 3 nm |
| Log (Leg): | 422 nm |
| Log (Total): | 44139 nm |
The weather forecast predicts the passing of a front with relative strong winds. We have desided to hide in the Opunohu bay which is surrounded by high mountains. Our friends Dan and Jilly from SV Dazzler came to the same conclusion.
In the evening the wind begins to howl. Even with (or perhaps because) the high and steep mountains all around us the wind is blowing in gusts with more than 30 knots. This continues throughout the nigh and the next morning. In the afternoon the wind speed dropped considerably and we could accept the kind invitation to SV Dazzler for dinner. We enjoyed not only the very delicious food but the whole evening was very pleasant and memorable.
Today the wind has almost died completely. Together with the crew of SV Dazzler we hike up in to the mountains to the same view point we visited already when we anchored in the Cook bay. The view across the two bays was again overwhelming.
In the evening Dan and Jilly are coming over to SuAn for a sundowner. It is a very pleasant evening. We talk about several repair and maintenance projects, experiences during our cruising live and lots of other subjects. Dan and Jilly are very nice and we are quite sad that our ways will split by tomorrow. While SV Dazzler continues to the West, we will return to Tahiti soon. With a little luck we will perhaps meet again somewhere on the big Ocean.