Entry Date: 07.07.2018, at 17:00:00 hrs (local)
Tahanea - Tahiti
Tikis under water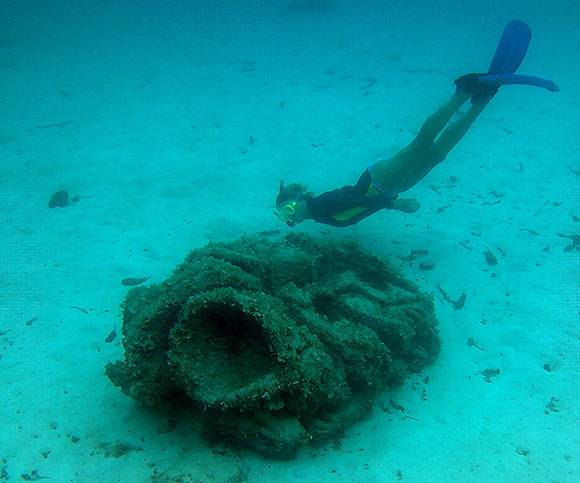 | | |
| --- | --- |
| PRID: | 11549 |
| LegID: | 311 |
| LegNo: | 60 |
| Latitude: | S017°29.47' |
| Longitude: | W149°52.30' |
| Day#: | 764 |
| Log (Day): | 20 nm |
| Log (Leg): | 419 nm |
| Log (Total): | 44136 nm |
We have heard that in Moorea would be a place in the lagoon with submerged Tikis. Wind and weather are fitting and so we sail over to Moorea. We anchor off the little town Papetoai. By dinghy we try to find this interesting place. We had to ask some local folks, to point us the way. Equipped with snorkeling gear we drop in the water and soon we see ancient looking Tikis on the bottom of the lagoon. In total we find about six different Tikis. Impressive.
The interesting question is: How did they get here? We learn two different stories:
The first one goes back in the time of the British missionaries from the London Missionary Society. They forbid to worship the old Polynesian Gods and applied stiff penalties for those who still did. But even the stiff penalties could not force the locals from worshiping their Tikis. The missionaries got angry and ordered to throw the Tikis in to the Lagoon.
The second story is, that the Tikis are produced for the local Tourism Board. Then they are dropped in to the lagoon as a tourist attraction.
We do not know which story is true, but we hope it is the first one, since we like it much better.