Entry Date: 17.10.2020, at 15:46:41 hrs (local)
Whangarei - Whangarei
First bite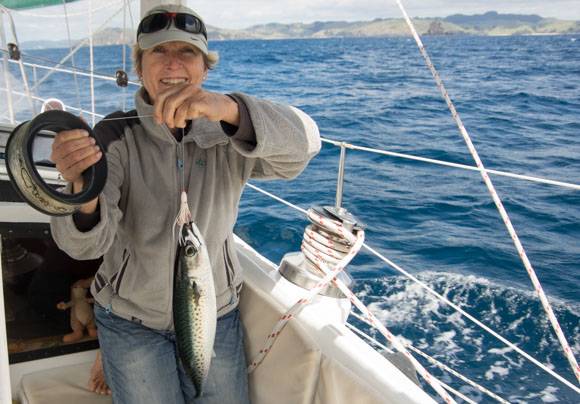 | | |
| --- | --- |
| PRID: | 12027 |
| LegID: | 325 |
| LegNo: | 73 |
| Latitude: | S034°46.87' |
| Longitude: | E173°24.26' |
| Day#: | 971 |
| Log (Day): | 18 nm |
| Log (Leg): | 608 nm |
| Log (Total): | 51803 nm |
We have left Houhora Harbour today and slowly make our way south towards Whangarei again.
On anchor we often try to catch a fish but haven´ t been successful so far. Today we stop over a rocky bottom and fish for two hours. All our baits (shells or soft bait) are nibbled away, but no fish on the hook.
Continuing to our anchorage we finally have a bite on our towing line: a Blue Mackerel, our first own catch in New Zealand. In the evening it is smoking on our BBQ grill in the Maitai Bay.