Entry Date: 25.07.2019, at 16:48:21 hrs (local)
Vuda Marina - Denerau Marina
Fairwell in Denerau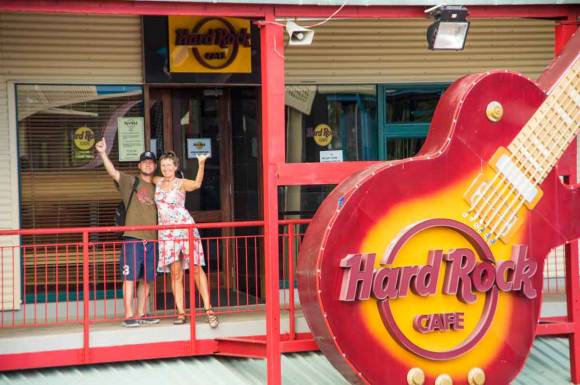 | | |
| --- | --- |
| PRID: | 11790 |
| LegID: | 319 |
| LegNo: | 67 |
| Latitude: | S017°45.63' |
| Longitude: | E177°23.24' |
| Day#: | 913 |
| Log (Day): | 14 nm |
| Log (Leg): | 213 nm |
| Log (Total): | 49394 nm |
Our time with Tom is almost over. After a last trip back to Viti Levu SuAn anchors in front of Denerau Marina. From here it is only a few miles by Taxi to the airport in Nadi.
We explore the area with the modern shopping mall. That is not like the rest of Fiji. Denerau Island is just besides the harbor, and not really an island, more a peninsula with at least nine upper class hotel resorts. No wonder that Denarau is also the tourist harbor. From here ferries take tourists to the many island resorts in the Mamanuca Group and Yasawa Group, as well as lots of day trips with water sport activities.
After we have made a reservation for a taxi to the airport tomorrow morning we are ready to enjoy our last drinks at the Hard Rock Cafe together with some good food and watch the activities in the port and on land.
We are all very sad, that Tom has to leave tomorrow morning to return back to his normal life in Germany. We had a great time together and could have continued like that for a couple of more weeks.