Entry Date: 13.05.2019, at 13:00:00 hrs (local)
Whangarei - Vuda Marina
Arrival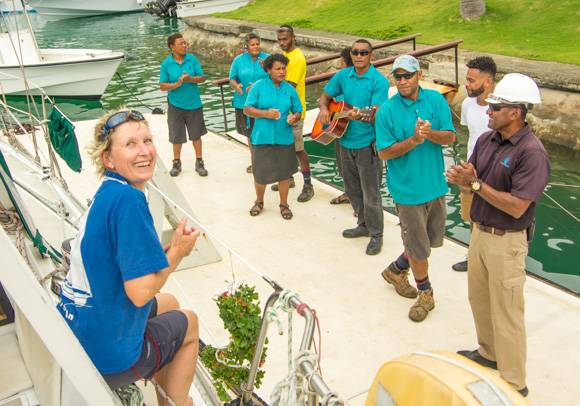 | | |
| --- | --- |
| PRID: | 11731 |
| LegID: | 316 |
| LegNo: | 65 |
| Latitude: | S017°40.86' |
| Longitude: | E177°23.21' |
| Day#: | 833 |
| Log (Day): | 150 nm |
| Log (Leg): | 1289 nm |
| Log (Total): | 48427 nm |
Days sailing: 11
Covered distance: 1253 nautical miles
Distance to Fiji: 0 nautical miles
Weather: 15-30 knots E-wind, 6 feet waves, lots of squalls
Mood of the crew: expectant
After another inconvenient night with heavy rain, squalls and frequent changing wind conditions the last day of our passage shows some mercy with us. The wind remains rather constant with 15 knots and the rain stops also for time being. Around 10:00 a.m. we are navigating through the Navula Passage in the protected waters of the lagoon. At 01:00 p.m. we finaly arrive in the Vuda Marina.
At the customs dock is a very special reception for us. A group of marina staff is waiting on the dock for us, taking our lines and welcome us with a traditional Fiji song and some flowers. We are very touched. It is not very often that we are welcomed in such a way.
Immediately after this the officials come on board in order to do the formalities and shortly after, we are also official arrived in Fiji. That was easy! Finally we are moving SuAn from the customs dock to the assigned berth in the circular marina. Arrived!