Entry Date: 30.08.2018, at 21:00:00 hrs (local)
Bora Bora - Tonga
Last Preparations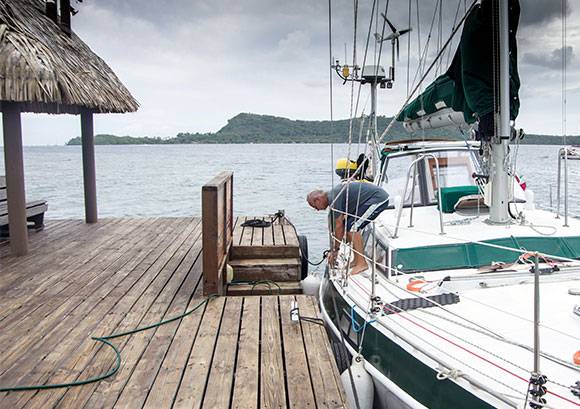 | | |
| --- | --- |
| PRID: | 11592 |
| LegID: | 312 |
| LegNo: | 61 |
| Latitude: | S016°31.64' |
| Longitude: | W151°44.61' |
| Day#: | 786 |
| Log (Total): | 44436 nm |
Our days in French Polynesia are counted. We had a wonderful time here and enjoyed every minute of it. Now we have to say Farewell again.
Ahead of us, on our way to the Kingdom of Tonga, are more then thousand miles of blue and (almost) empty ocean. This long passage we want to brake down in shorter legs. Our first destination is the remotely located Palmerston Atoll. It is "only" 670 nautical miles away.
Before start and sail out in the vast ocean, we need to prepare the vessel and ourselves for the long journey. The image shows how SuAn tops up the water tanks at the dock of the restaurant Bloody Marys. Other preparations are concerning the checking of the engine and the rig. Off course stocking up food is also an important task.
The clearing with the officials happens in the Bora Bora Police station. Here our passports are stamped and we receive the clearance papers for the next port.